GRIP Wiki
Welcome to the Official
GRIP Wiki
the GRIP guide written and maintained by the players.
We are currently maintaining 417 pages (64 articles).
Please feel free to contribute by creating new articles or expanding existing ones.
About GRIP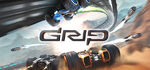 GRIP: Combat Racing, or GRIP, is agame being developed by Caged Element Inc. and published by Wired Productions. It was released on Steam Early Access on February 2, 2016. It was released in full on November 6, 2018.
GRIP is a futuristic combat racer inspired by the Rollcage games from 1999/2000. Combine furious speed with intense action to create memorable gaming moments you won't forget.
GRIP has its origins in the illegal street racing scene that spawned in the early 21st century. At that time the races were reasonably harmless. A danger to the public, certainly, with inexperienced drivers managing to destroy their rides in ill-judged corners. But most of the time, it was only the drivers themselves that wound-up dead. It was characterized as an underground movement, largely ignored by law enforcement, with only a handful of arrests ever being made. The world had other worries.
Wiki
---
To write a new article, just enter the article title in the box below or in the search box at the top of the page.
---
Adding content

If you are unsure of what to do or how to create a page, search for a few articles on the same topic and see what they look like. You can always view the source code in a wiki and learn from what others have done.
An edit doesn't have to be massive; if you feel you don't want to create whole articles, then just fixing spelling errors and broken links is enough.